A Program to Live By
Our award-winning program combines a set of multi-disciplinary services to help our patients modify their long-term behavior. These modifications have been proven to improve health outcomes in childhood, adolescence and adulthood.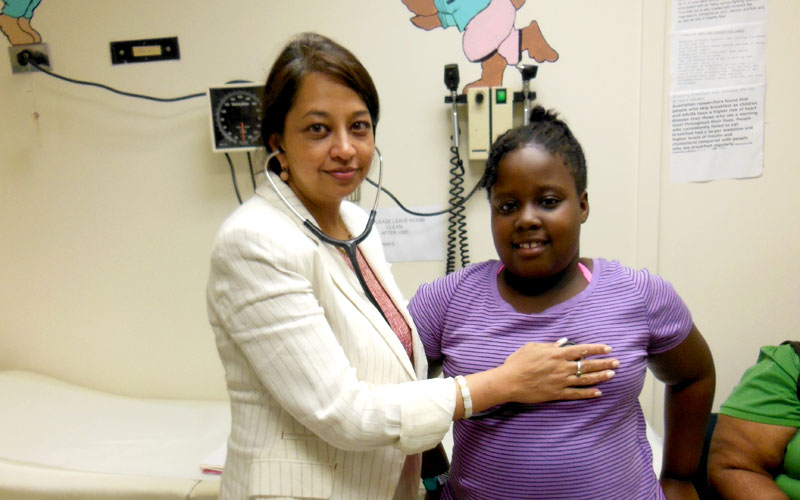 We welcome patients at our clinic regardless of their ability to pay. Insurance policies, including Medicaid, cover the medical exams. All other services, including nutrition and exercise programs, are free or subsidized.
Patient Identification and Enrollment
We conduct initial screenings at primary care centers, public housing complexes, public schools and community non-profit organizations.
Overweight and obese children found to exhibit one or more metabolic abnormalities associated with obesity are eligible for our program. These children are at the highest risk for chronic diseases, including coronary artery disease and type II diabetes.
Eligible abnormalities include:
Hypertension
Hyperinsulinemia and Acanthosis Nigricans
Dyslipidemia
Sleep Apnea
Progressive weight gain especially centrally located
Strong family history of diabetes or heart disease
All eligible families undergo a complete medical and nutritional evaluation and are screened for possible psychosocial issues. Eligible families are then interviewed by a care coordinator and selected based on their readiness for change and willingness to commit to regular medical visits, counseling sessions, and exercise programs.
Obesity Clinic and Medical Treatment
Once enrolled, a specialist physician at our Bridgepoint Health pediatric obesity clinic regularly monitor health indicators including:
Lipid profiles
Glucose and insulin levels
Liver function
Blood pressure
Body mass index (BMI)
Lean body mass
Fat mass
Waist circumference
Basal metabolic rate
Physicians and a nutritionist follow up with the child at regular intervals, depending on the severity of the child's disease
Nutritional and Behavioral Counseling
During medical visits, patients are provided one-on-one counseling sessions with certified nutritionists. Children and their families undergo assessments with each appointment that involve food recalls.
Behavior changes that are encouraged and tracked include:
Label reading
Baking instead of frying
Reduction in fast food and snack intake
Reduction in juice and soda beverages
Regular breakfast intake
Patients meet with the senior care coordinator to discuss motivation and psychosocial issues.
Mental Health Services
Mental health professionals play a vital role in the treatment of childhood obesity. Childhood obesity can cause serious psychological problems in children and these problems often require clinical attention.
Some of the difficulties overweight children face include:
Emotional distress and social rejection due to weight bias
Pervasive low self-esteem
Specific psychiatric disorders
Overall diminished quality of life
As part of a three-phase screening for psychosocial, educational, family problems or weight bias, our physicians administer a brief psychological screening
Any positive (problematic) findings are an indication for administering the  Child Behavior Checklist to parents. The CBCL is one of the most widely used and researched measures of general child functioning and provides extensive evaluative information, including specific DSM-based diagnoses.  See also The ASEBA Approach
The third part of the screening is a clinical interview with child and parents, often supplemental with additional diagnostic tests.
Both short and long-term psychotherapy and behavior modification for child & parents are provided by the mental health staff. Group therapy programs are also offered periodically.  When indicated, referrals to mental health facilities are arranged, as well as providing behavioral weight management strategies to clinicians already counseling LLLR patients.
Care Coordination and Support Groups
Each child is assigned his own care coordinator, who streamlines the participant's care based on the findings from the initial clinical evaluation.
Here are some of the things a care coordinator does:
Develops individual treatment plans
Follows up with appointments
Facilitates referrals to other community programs
Monitors attendance and participation
During regular phone calls with our participants and their parents, the coordinator and a physician reinforce nutrition and behavior modification skills. The care coordinator conducts workshops and support groups for parents at the exercise sites. Program physicians, nutrition experts, exercise consultants and behavior therapists are regularly invited to moderate the workshops or serve as guest speakers.
Physical Fitness and Exercise Program
We have partnered with community recreation sites to provide our participants with structured physical activity programs that are supervised by certified trainers.
Sessions are exclusive to Live Light participants only, providing a supportive environment for overweight children to exercise and play sports without being ostracized or teased
Our program is based on the New York City Fitness Gram and the President's Council on Exercise.
Instructor-to-participant ratios are limited to 1:12
Fit Tests are administered regularly. The test measures standard physical abilities including flexibility, strength and aerobic capacity
Specialized Summer Camp
In partnership with the New York City Department of Parks and Recreation, Live Light launched its first summer camp in 2009 for 40 participants in order to maintain consistent physical fitness habits and nutrition education outside of the academic school year. For six weeks Monday through Friday, 8am – 6pm, children participated in fitness activities such as swimming, aerobics, dance, martial arts, yoga and basketball in combination with classroom education on nutrition and field trips twice a week. This inaugural session proved overwhelmingly successful not only in terms of keeping participants active during summer vacation but also in demonstrating positive health outcomes. The Summer program has become an integral part of the LLLR program and we encourage early sign up. Sign up here.
Physician Education
Current medical school and residency curricula do not adequately address childhood obesity. Many primary care physicians are not aware of the extent of the problem and are not well versed in clinical management of obesity and associated disorders. Live Light staff members deliver educational seminars for community doctors and regularly present at medical conferences such as the annual meeting of the Pediatric Academic Society and local meetings of the American Academy of Pediatrics. They also provide clinical training to primary care physicians, pediatric residents and medical students from Brookdale Hospital and other programs. Our physicians conduct workshops at local social service and faith-based agencies throughout the year.
To request a training workshop at your institution or to attend an obesity clinic please contact Dr. Dhuper at mailto:sdhuper@livelight.org
Community Education
We are committed to educating the community about the health risks associated with obesity, the importance of good nutrition and physical activity, and resources for treatment of obesity.
We host educational programs at community and faith-based agencies
We distribute information and brochures
We run a public awareness campaign using the media
Our Screening and Evaluation Guide can help physicians screen, assess and manage childhood obesity in the patients you treat.