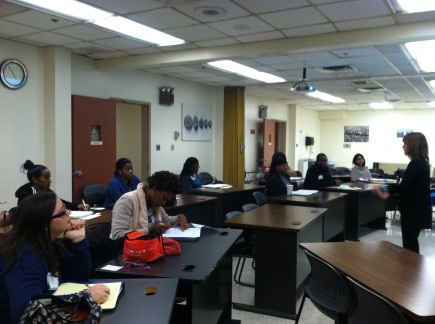 The Brookdale University Hospital and Medical Center's Volunteer Services Department and the Live Light Live Right Program has developed a new program titled, Let's  Share Volunteer Program. Funded by the United Hospital Fund and the Robin Hood Foundation, The Let's Share Volunteer program engages trained volunteers to provide education, advocacy, and support to pediatric patients and their families facing childhood obesity. The first nine volunteers of the program have completed their training and graduated on February 10, 2014.
The Let's Share Volunteer Program will engage volunteers in a variety of activities, including providing information and assistance to new participants and their families; nutrition education on how to read food labels; show visuals on portion size; and explain handouts on better food options. The volunteers will also be able to assist with outreach, health fairs, weight bias and bullying workshops, and the creation of a local directory of available resources in the community and links related to obesity clinics, available subsidized or free exercise facilities, local grocery stores, farmer markets providing fresh fruits and vegetables, and green cart sites.
The volunteers attended 16 hours of training provided by the Live Light Live Right team including the medical, nutritional, and behavioral therapy sciences behind childhood obesity.
The next training session for the Let's Share Volunteer Program will be held in late Spring 2014. For further information about volunteering for the Let's Share Volunteer Program, please call Arlene Martin, Director of Volunteer Services at (718)240-5277.