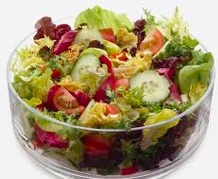 With the warmer weather just around the corner, salads can be quite appealing. Eating salad is a great way to curb your appetite and add nutrients to your diet. Yet, when it comes to your health, not all salads are created equally. Salads can contain more calories and fat than you think!
Take, for example, a Cobb salad. A classic Cobb salad contains chopped bacon, eggs, blue cheese, avocado, and loads of creamy dressing. Or if one of your favorites is a chef's salad, typically it comes loaded with Swiss cheese, roast beef, eggs, and dressing. These salads can cost you more than 1,000 calories and 80 grams of fat! That said, don't give up on salads. If you choose wisely they are not only healthy but delicious!
Follow these 5 tips to help you build a healthier, low-calorie salad:
1. Start with a strong foundation of brightly colored greens
Pile on lots of dark leafy greens as they pack in more vitamins and minerals. Swap the iceberg lettuce for the darker greens as spinach, arugula and romaine. For less than 20 calories per two cups you can have a tasty, nutrient-rich base.
2. Pile on the veggies.
Choose a variety of colors to get the most health benefits —sprouts, red cabbage, mushrooms, red bell peppers, cucumbers, tomatoes, broccoli, carrots, sugar snap peas, and red onions are all great choices. At 25 calories or less per 1/2-cup serving you can't go wrong.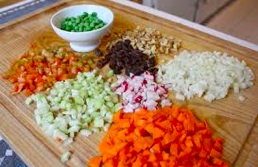 3. Don't forget the protein.
If you tare thinking about making your salad a meal, add the protein! If you're in the mood for animal protein, select lean sources of protein.. 3 ounces of skinless chicken or turkey, water packed tuna, or salmon. If you want to try something a little different, reach for 6 ounces of cubed tofu or 1 cup of chickpeas, kidney beans, black bean, pinto beans, or other legumes. If you are thinking about adding bacon, salami, or bologna think twice. These are fatty meats and add a lot of fat and calories.
4. Choose one extra.
To add a little more flavor, add some extras. While some of these extras are packed with nutrients, they're also packed with calories and fat, so they should be added sparingly. A scoop here and a sprinkle there can lead to too many calories. That is why the goal is to add one to two extras! Add 1 tablespoons cheddar, Swiss, or feta cheese or a 1 tablespoon chopped walnuts, pecans or sliced almonds; 1 tablespoon sunflower or pumpkin seeds; 1 ounce avocado; 5 small olives (canned/jarred in water); or 1 tablespoons dried cranberries or raisins.
5. Downsize Your Calories From Dressing
The goal is to dress your salad lightly. Adding too much dressing can take a salad from fresh and nutritious to downright unhealthy and can really pump up the fat and calories. If you use regular dressing, aim for 1-2 tbsp. If you opt for the lite, low-fat. or reduced-fat varieties, add 2-3 Tbsp. It adds great flavor, without all the calories. Or try the spray dressing.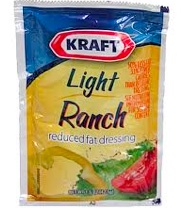 Check out the following link. http://www.womenshealthmag.com/nutrition/build-your-own-salad
You get to build a salad by choosing your favorite ingredients and they tally up the nutritional content for you. See how you fare!
Try some of the recipes below!
Chopped Chicken Salad with Apples and Walnuts

Prep Time 15 minutes
Serves: 1
Ingredients:
4 (5-ounce) chicken breast, cooked, chopped
1/4 cup chopped cucumber with peel
1/4 cup chopped tomato
1/2 cup chickpeas
1/2 medium Fuji or Macintosh apple with skin, chopped
1 tablespoon chopped walnuts
1/4 cup chopped avocado
1/4 cup chopped celery
2 scallions, finely chopped
1 to 2 cups chopped Romaine lettuce
2 to 4 tablespoons low-calorie raspberry vinaigrette
Directions:
Place all the greens, the vegetables, the fruit, and the nuts in a bowl.
Toss all the ingredients. Pour vinaigrette over the mixture. Toss again, until all the ingredients are coated with the dressing.
Serve on a plate.
Source: http://www.joybauer.com/healthy-recipes/chopped-chicken-salad-with-apples-and-walnuts.aspx
Orange and Avocado Salad

Prep Time: 15 minutes
Serves: 4
Ingredients:
8 cup(s) mixed salad greens
1 cup(s) orange segments
1 avocado, diced
1/4 cup(s) slivered red onion
1/2 cup(s) lite vinaigrette dressing
Directions:
Toss greens, orange segments, avocado and onion in a salad bowl.
Toss with lite vinaigrette dressing.
Source: http://www.delish.com/recipefinder/orange-avocado-salad-recipe
Curried Chicken Salad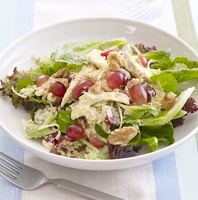 Source: Adapted from http://www.health.com/health/recipe/0,,10000001891979,00.htm
Prep Time: 20 min
Servings: 4 servings
Ingredients:
1 cup plain fat-free yogurt
1/2 cup grapes, halved, or 1/4 cup raisins
2 teaspoons curry powder
Dash of salt
1/4 cup walnuts (optional)
Lettuce
2 cups chopped leftover chicken
Directions:
Mix yogurt with grapes or raisins, curry powder, and a dash of salt. (If you have any walnuts, toss in 1/4 cup.)
Chop the lettuce, and place into each of 4 bowls.
Combine the chicken with the yogurt mixture, and spoon on top of the beds of lettuce.
Serve immediately, or chill until ready to serve.
Buffalo Chicken Salad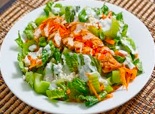 Prep Time: 20 min
Cook Time: 6 min
Servings: 4 servings
Ingredients:
2 (8-ounce) boneless, skinless chicken breast halves
2 tablespoons cayenne pepper hot sauce (or other hot sauce), plus more to taste
2 teaspoons olive oil
2 hearts Romaine, cut into 1-inch strips (about 8 cups)
4 celery stalks, thinly sliced
2 carrots, coarsely grated
2 scallions, green part only, sliced
1/2 cup lite Blue Cheese Dressing
Directions:
Preheat the broiler.
Put the chicken between 2 sheets of waxed paper and pound with a mallet or hammer so the chicken is an even thickness of about 3/4-inch, then cut the chicken crosswise into 1/2-inch strips.
In a large bowl, combine the hot sauce and the oil, add chicken and toss until the chicken is well coated.
Arrange the chicken on a baking sheet and broil until it is cooked through, about 4 to 6 minutes, turning once.
In a large bowl combine the Romaine, celery, shredded carrots and scallions. Toss with the dressing. Divide the greens between 4 plates, top with the chicken. Serve with extra hot sauce.
Source: Adapted from http://www.foodnetwork.com/recipes/healthy-appetite-with-ellie-krieger-/buffalo-chicken-salad-recipe/index.html
Healthy Chef Salad Recipe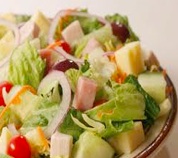 Source: http://ifoodreal.com/healthy-chef-salad-recipe/
Prep Time: 15 minutes
Servings: 2
Ingredients:
1/2 head romaine lettuce, roughly chopped
1/2 cucumber, halved & sliced
2 medium tomatoes, roughly chopped
2 eggs, boiled & sliced
8 oz cooked chicken breast, roughly chopped
1/4 cup any low fat cheese, shredded
1 cup light ranch dressing
Directions:
Toss all ingredients together in a large bowl and top with the dressing
Serve
Storage Instructions: Salad will stay fresh for up to 2 days in the fridge, covered, without dressing.
Chopped Greek Salad with Chicken
Prep Time: 15 min
Servings: 4
Ingredients:
2 1/2 tablespoon(s) red-wine vinegar
1 tablespoon(s) extra-virgin olive oil
1 1/2 teaspoon(s) chopped fresh dill or oregano or 1/2 teaspoon dried
1/2 teaspoon(s) garlic powder
1/8 teaspoon(s) salt
1/8 teaspoon(s) freshly ground pepper
3 cup(s) chopped romaine lettuce
1 1/4 cup(s) (about 6 ounces) chopped cooked chicken (see Tips & Techniques)
1 medium tomato, chopped
1/2 medium cucumber, peeled, seeded and chopped
1/4 cup(s) finely chopped red onion
1/4 cup(s) sliced ripe black olives
1/4 cup(s) crumbled feta cheese
Directions:
Whisk vinegar, oil, dill (or oregano), garlic powder, salt, and pepper in a large bowl.
Add lettuce, chicken, tomato, cucumber, onion, olives, and feta
Toss to coat.
Source: http://www.delish.com/recipefinder/chopped-greek-salad-chicken-for-two-recipe
Herb Salad Mix With Tomatoes, Pepper, and Feta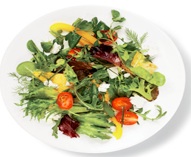 Prep Time: 15 minutes
Servings: 4
Ingredients
3 tablespoons olive oil
1 1/2 tablespoons fresh lemon juice
1/2 small clove garlic, crushed
kosher salt and black pepper
5 ounces store-bought herb salad mix (6 cups)
1 cup grape tomatoes, halved
1 yellow bell pepper, sliced
1 cup broken pita chips
2 ounces Feta, crumbled (1/2 cup)
Directions:
In a large bowl, whisk together the oil, lemon juice, garlic, ¼ teaspoon salt, and ⅛ teaspoon black pepper.
Add the lettuce, tomatoes, bell pepper, pita chips, and Feta and toss to coat.
Season with ¼ teaspoon each salt and black pepper.
Source: http://www.realsimple.com/food-recipes/browse-all-recipes/herb-salad-mix-tomatoes-feta-00100000081482/index.html
A Skinny Caesar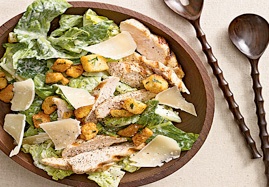 Prep Time: 15 minutes
Cook Time: 12 minutes
Serving: 4 servings (serving size: 2 cups lettuce and 1/4 pound chicken)
Ingredients:
Olive oil cooking spray
1 pound skinless, boneless chicken breast halves
1/4 plus 1/8 teaspoon kosher salt, divided
1/4 plus 1/8 teaspoon freshly ground black pepper, divided
1/2 cup silken soft tofu
2 tablespoons fresh lemon juice
1 tablespoon extra-virgin olive oil
1 1/2 teaspoons Dijon mustard
1 1/2 teaspoons red wine vinegar
1 teaspoon Worcestershire sauce
3/4 teaspoon minced garlic
1/2 teaspoon anchovy paste
1 tablespoon water
2 tablespoons grated and 1/4 cup shaved fresh Parmesan cheese
8 cups romaine lettuce cut crosswise into 2-inch strips
1 1/4 cups fat-free whole wheat croutons
Directions:
Heat grill pan to medium-high. Mist chicken breasts with olive oil spray, and season with 1/4 teaspoon each salt and pepper. Grill chicken until just cooked through, about 5–6 minutes per side. Place chicken on a cutting board and let rest about 5 minutes to allow juices to redistribute; cut into bite-size pieces.
Mix next 8 ingredients and remaining salt and pepper in a blender until well-combined and creamy, scraping down blender sides, as necessary. Add 1 tablespoon water to thin. Stir in grated Parmesan.
Toss lettuce, croutons, and dressing in a large bowl; divide among 4 plates.
Arrange chicken over salads, sprinkling each evenly with shaved Parmesan.
Source: http://www.health.com/health/recipe/0,,10000001723361,00.html
Festive Tossed Salad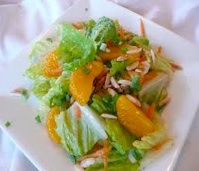 Prep Time: 15 min.
Servings: 2
Ingredients:
2 tablespoons canola oil
1 tablespoon lemon juice
1 tablespoon honey
1/4 teaspoon sugar
1/4 teaspoon garlic powder
Dash salt
2 to 3 cups torn salad greens
1 celery rib, sliced
1 medium carrot, shredded
2 green onions, sliced
1/2 cup mandarin oranges
1 tablespoon sliced almonds, toasted
Directions:
In a small bowl, whisk the first six ingredients; set aside.
In a salad bowl, toss the greens, celery, carrot, onions and oranges.
Add dressing and toss to coat; sprinkle with almonds. Serve immediately.
Middle Eastern Bean Salad with Parsley and Lemon

Prep Time: 1 hr 15 min
Servings: 4
Ingredients:
1 can (15 oz.) black beans, rinsed well and drained
1 can (15 oz.) garbanzo beans, rinsed well and drained
1 cup chopped green onion (or less)
1 1/2 cup chopped fresh tomato (about 6 small tomatoes)
1 cup finely chopped fresh parsley
Salad Dressing:
3 T fresh-squeezed lemon juice
1/2 tsp. garlic puree (or use finely minced fresh garlic)
4 T extra-virgin olive oil
1/2 tsp. salt
fresh ground black pepper to taste
Directions:
One at a time, empty canned beans into a colander placed in the sink, rinse well with cold water until no more foam appears, then let beans drain well. (Blot them dry with a paper towel if they still seem wet.)
Put well-drained beans into a plastic bowl.
Chop green onions, tomatoes, and parsley and add to bowl.
Whisk together dressing ingredients. Gently mix dressing into bean mixture, stirring just enough to combine and coat the ingredients with dressing.
Let salad sit at room temperature for at least 30 minutes before servings, then season with more salt and fresh ground black pepper to taste.
Source: http://www.yummly.com/recipe/Middle-eastern-bean-salad-with-parsley-and-lemon-_balela_-309597