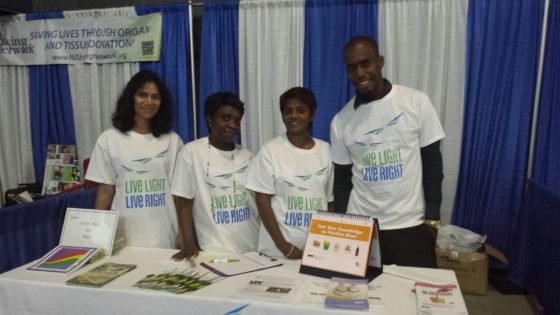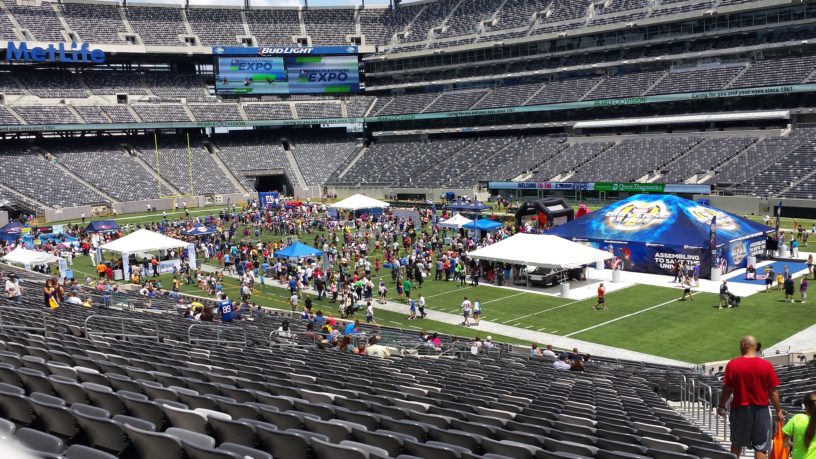 On July 19th and July 20th, the Live Light Live Right (LLLR) Program participated in the second Annual NBC 4 News & New York Giants Health & Fitness Expo. It was held at the MetLife Stadium in New Jersey.
There were more than 300 exhibitor booths with a vast array of information and new innovations for staying healthy. At the expo, there was free testing and health screenings, along with educational material for the participants. There were many interactive activities and attractions for the families such as Zumba, scuba diving, cardio kick boxing, tennis, rowing and healthy cooking demo, to name a few.
The Live Light Live Right Team conducted the BMI screening for the children that attended, and were given their BMI score along with education on how to maintain a healthy BMI. LLLR provided a nutrition quiz to those interested participants based on those results, healthy food options were discussed with them using this quiz to guess the calorie content of certain food. The Live Light Live Right team spoke to the participants about the dangers of sweetened beverages and how it relates to childhood obesity, and were educated about healthy options. The program's brochures, health bulletins and giveaways, such as bottles and bag packs were given to the participants after speaking to them about the consumptions of these foods and beverages.
Fresh, healthy vegetarian pear salsa recipe was given out for tasting. Visitors enjoyed the flavors from the salsa recipe and enthusiastically took home the recipe. Live Light Live Roght team provided three more recipe handouts that were well received. We educated the visitors about how to make healthy choices while eating out and, about the difference between good fat and bad fat, with the help of handouts. The team asked the visitors to guess the amount of sugar in large [32 oz] of soft drink and engaged them in conversation about the high sugar content in processed drinks.
Many people visited the Live Light Live Right booth and were interested to learn more about our program and even made requests to expand this project in North New Jersey, Bronx and Queens Area.
It was a wonderful experience to reach out to the community to create the health and fitness awareness. We were very to excited to be a part of the NBC and New York Giants Health and Fitness Expo 2014.