Nutrition Know How….Tips to get through the school year!
November is upon us, and the kids are well into the school year. While most of us plan on what we will wear to school each day, or do we have all of our homework? Are you still struggling with, What do I eat for lunch? It is time to refocus your efforts as a family to ensure your children's nutrition and physical activity habits are on track this year.
Do you make time for breakfast? Breakfast is a very important meal for growing children. Studies show that breakfast eaters tend to have higher test scores, they concentrate better and solve problems more easily. So whether they eat at home or at school, be sure your children eat a nutritious breakfast every day.
Review weekly lunch menus. The National School Lunch Program requires that the meals offered in most schools must have a certain amount of calories, fat, saturated fat, vitamin A, vitamin C, calcium, and iron. It may surprise you to learn that many foods fit into these guidelines, including chicken nuggets and tater tots.
Take time to go over the menu with your kids and discuss how to build a healthful and nutritious meal they will enjoy. Make sure the choices include whole grains, vegetables, fruits and low-fat or fat-free dairy at every meal.
Pack your child's lunch. If your child opts out of school lunch pack a healthy lunch for your child. Take your kids grocery shopping with you and allow them to pick out healthy foods that they enjoy. Your children are much more likely to eat what you pack for them if they have picked it out themselves
Know the school's policy on snacks 
 Learn about the

snacking

policies at your child's school. Ask these questions:

Are children allowed to snack in class?
Are vending machines accessible to children between classes?
Does the school have numerous

fund-raisers

that focus on selling candy or chocolate to students?
Knowing the school policies can help you plan for and deal with snacks. For example, you could provide your child with a healthy snack for breaks. Or you can discuss with your child, which snacks are healthier at the vending machines and snack bar.
Plan snacks for after-school activities. If your children are involved in after-school activities, pack a healthy snack they can eat beforehand. Fruit or vegetable slices, a whole grain cereal bar or whole-grain crackers with low-fat cheese are healthy options that will give them the energy they need to make it to dinner.
Be active. Regular physical activity is also critical to your children's development. If your child doesn't like organized sports, encourage bike riding or walking outside. Encourage them to participate in the Live Light Live Right Exercise Program. In fact, involving the whole family is a great way to spend time together while getting the physical activity everyone needs.
Talk to your children. Learn the foods they enjoy. Teach them about the foods they need for their growing bodies. Find ways together to make sure they have the knowledge and ability to eat healthy and tasty foods at every meal.
Set an example at home and at school
 While it is great that you try to have your children eat healthy during the day, if they come home to fast food and pizza most evenings, you are sending them mixed signals. It is important to set an example of healthy eating at home before we can expect our children to make healthy choices when we are not with them. Have healthy foods available. Take time to plan and prepare healthy meals for the whole family. Encourage them to try new foods.
Be a role model. Don't just talk the talk, but walk the walk. If you eat healthy foods you are setting a good example, for them to follow.
Teach moderation

at home, so children can practice at school as well. If they learn that a treat or snack involves only a couple cookies or a small handful of chips, rather than the whole bag, those habits will carry over when they are given treats in school for birthdays,

fund-raisers

, and rewards for doing well in class, such as pizza parties.
Check out some of the meal ideas below. The goal is to have your child eat a variety of nutrient-rich foods, such as high-fiber, nutrient rich grains, fruits and dairy products, healthy fats, as well as lean sources of protein!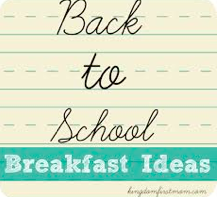 Back-to-School Breakfasts
½ c Oatmeal topped with 2 tbsp raisins and 2 tbsp slivered almonds.
¾ c Special K or Fiber One cereal topped with 1/2 sliced banana.
1/2 toasted Whole-Wheat Bagel, topped with 2 teaspoons Peanut Butter
Lite Whole Wheat English Muffin topped with 1 Hard boiled Egg or 2 egg whites, with 1

oz

finely shredded Cheddar Cheese.
1 small container of Low-Fat Fruit or Fat -Free Yogurt with a slice of whole wheat toast topped with 1 teaspoon peanut butter.
One cup Fruit Smoothie made with low-fat milk and fruit
A corn tortilla with 1

oz

low-fat shredded cheese (microwave for about 15 seconds) and top with salsa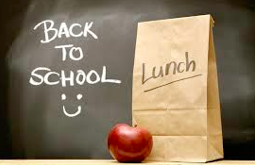 Practical Lunch Tips
A sandwich made with lean meat, tuna fish, or peanut butter and spreadable 100% jelly; fruit and vegetables; and milk is a fine meal for a growing child's lunch. You can boost nutrition by adding shredded carrot, chopped celery, or water chestnuts to egg salad or tuna salad. Combine chopped grapes with diced chicken and lite or reduced-fat mayonnaise for a tasty chicken salad. And don't forget this popular standby: add a sliced banana or apple to peanut butter sandwiches.
Other easy lunches that use foods from at least three of the food groups:
Tortilla wraps with shredded low-fat cheese, chopped chicken, and cut vegetables
Egg salad (made with light mayonnaise), ½ whole-wheat bagel, and fruit
Whole-grain roll with light mayonnaise, 2 hard boiled eggs, and carrot sticks
1 small container of low-fat or fat-free yogurt, whole-wheat crackers, and fruit
1-2 tablespoons of peanut butter, whole-wheat bread, and fruit or vegetables
1/2 cup low-fat cottage cheese or ¼ c hummus, whole-grain crackers, and cherry tomatoes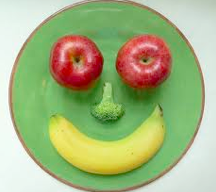 Snack Ideas with A Healthy Twist
Fresh fruit in season
1 small container of Low-Fat or Fat –Free Fruit Yogurt
Whole wheat crackers with peanut butter
Handful of nuts (peanuts, almonds, cashews or a mix)
Lite popcorn
Yogurt Smoothie
Veggies (celery sticks, cherry tomatoes, baby carrots) with lite ranch dressing
Hummus and raw vegetables
Celery sticks (cut into bite-sized pieces and fill with peanut butter and dot with raisins or Craisins)
Apple slices or banana rounds topped with peanut butter
A handful of trail mix
A serving of baked tortilla chips with salsa
Yogurt, topped with a handful of whole grain cereal
Low-fat cheese and whole grain crackers