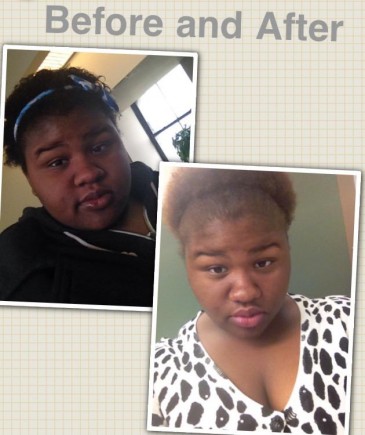 Rushell's journey with Live Light Live Right began in 2011. She was not happy with herself and wanted to live a healthier lifestyle. She was on a roller coaster ride with her weight and was very frustrated. In 2014, Rushell made the decision to get bariatric surgery. She witnessed the success of her mother's surgery and wanted the same for herself. Rushell, like every normal teenager wanted to wear cute clothes, go on rides and do what all teenagers do. Rushell also struggled with how she viewed herself, concerns about her health and how the weight was impacting her health, she was determined to get healthy.
It was a journey that she was ready for and with the support of her mother to guide her she was extremely excited to take the next step. After the surgery, she said that it was "life changing". Rushell was more motivated to loose the weight because she saw results instantly. She made better food choices and was able to do more physically because the weight was coming off. When she began with Live Light she struggled with exercising because she would get out of breathe, now she can run a mile and tries exercises that she would not have. As of today, she has lost a total of 80lbs. Rushell can now shop in stores that she was unable to before, fit on rides, people don't give her weird looks and she feels a sense of pride in herself.
Rushell wants others to know she still works hard at her weight loss by watching what she eats, exercising and stay on her path of making healthy choices. It was inspiring to her to see the sizes in her clothes go down, exciting when she would try something on she thought would fit, and it was ultimately too big. According to Rushell if someone considering the surgery asked her, she would tell them it was the best life decision she made.
Live Light Live Right is very proud of Rushell and is pleased to continue supporting her in her weight loss journey.