on't let the cold weather keep you from celebrating the flavors of the season. Winter is a great time for produce! There are many flavor-packed, versatile winter vegetables in season.
Sweet potato and winter squash lead the pack. They are very flavorful and highly nutritious. They are root vegetables, meaning they grow underneath the ground where they are able to absorb high amounts of minerals and other nutrients from the soil. They are also able to absorb important nutrients from the sun through their leaves. So they are really superfoods!
Most root vegetables are high in complex carbohydrates, which slowly break down into sugar in your body to give you energy. They are also high in fiber and phytonutrients, and low in fat. Additionally, they are generally high in vitamin C, beta-carotene, and contain essential minerals such as potassium, phosphorous, magnesium and small amounts of iron.
Root vegetables can be eaten in just about any way imaginable, and still taste great. The wide variety of flavors work well in a hearty vegetable soup, stew or casserole dish. You can bake, steam or barbecue them, and serve them as a side dish for your favorite meat.
Check out some ways to incorporate these highly nutritious .. and delicious.. foods into your menu!
Sweet Potatoes
Far more nutritious than regular potatoes, sweet potatoes are full of antioxidants. Sweet potatoes are a starchy vegetable and are a good source of fiber, beta-carotene, potassium and vitamin C.
Sweet potatoes have a naturally sweet flavor and can be used in place of regular potatoes for mashing or baking. Here are just a few ways to enjoy sweet potatoes:
Dice or slice up a sweet potato. Toss the pieces with a bit of olive oil, herbs, and spices, and roast them in the oven until they start to brown. You'll end up with a naturally sweet side dish that pairs well with just about any entrée.
Add diced cooked sweet potatoes to soups, stews, or chili.
Make a baked sweet potato in the oven. Once cooked through, eat the sweet potato as is and enjoy the sweet flavor. Or, if you want to dress it up, cut your sweet potato in half lengthwise and top with sautéed onions and peppers, salsa, and some reduced-fat cheese for a loaded baked sweet potato.
Or, try this recipe for oven baked sweet potato fries!
Oven Baked Sweet Potato Fries
Prep time: 10 minutes
Cook time: 50 minutes
Yield: Serves 4-6 as a side dish.
The baking times are approximate; it depends on how thick you cut the wedges or rounds of sweet potatoes. Try to cut them evenly so they all cook at about the same rate. For best browning results bake only one sheet at a time.
INGREDIENTS:
2 pounds sweet potatoes, about 3 large ones
2 Tbsp olive or other vegetable oil
1 Tbsp salt
1-2 Tbsp spice or spice combination of your choice: chipotle powder, smoked paprika, Chinese five-spice, pumpkin pie spice, garam masala, Cajun seasoning, etc.
DIRECTIONS:
Preheat oven to 450°F. (For more crispiness, preheat your oven to 500°F.).
Place the baking sheet in the oven to preheat it. (This will help to get the "fries" crisper.)
Peel the sweet potatoes and cut off the ends. Cut the potatoes in half lengthwise and then, if they are very long, in half crosswise. Cut each piece into wedges. Alternately, you can slice the peeled sweet potato into disks with a sharp knife.
Put the sweet potatoes into a large bowl and add the oil. Mix well to combine. Sprinkle with salt and spices of your choice. Use your hands to mix well, so all pieces are coated with oil and spices.
Take the baking sheet out of the oven. Spray it with non-stick cooking spray.
Spread the sweet potatoes out in a single layer on a baking sheet; the oil they are coated with and the non-stick cooking spray should keep them from sticking to the pan.
Bake for a total of 25 to 30 minutes. After the first 15 minutes, remove the baking sheet from the oven and turn over all of the sweet potato pieces. Return to the oven and bake for another 10-15 minutes, or until they are well browned. Let cool for 5 minutes before serving.
Source: http://www.simplyrecipes.com/recipes/oven_baked_sweet_potato_fries/
Winter Squash
Winter squash refers to a group of richly colored vegetables that have high levels of carotenes, vitamin B1, vitamin C, pantothenic acid, folic acid, potassium and fiber. Some of the vegetables that are included in the winter squash group are pumpkin, butternut, spaghetti and acorn squash. Generally, a winter squash that is more richly-colored has a higher concentration of nutrients. This vegetable can help protect the body from heart disease, cancer and diabetes. You can cook winter squash by steaming, baking, boiling or roasting.
Basic cooking methods
There are many ways to prepare your winter squash. Here are some suggestions:
To bake or roast:
For whole and unpeeled squash, cook for about 1 1/2 -2 hours at 375-390 F
For cut up and peeled squash, cook for about 30 minutes, at 375-390F
To grill:
Peel and cut into 1-2 inch slices or cubes, and cook for about 20 minutes
To boil:
For whole and unpeeled squash, boil for 1 hour
For cut up and peeled squash, boil for 10-15 minutes
To mash, puree, or use in stewed dishes like curries and casseroles:
Cook the squash for 10-15 minutes to make it tender
Butternut squash is a mildly sweet and nutty flavor and has a bright orange interior. A simple way to prepare is to roast it. Check out the recipe below.
Simple Roasted Garlic Butternut Squash
Prep time: 15 minutes
Cook time: 30 minutes
Yield: Serves 4 as a side dish.
INGREDIENTS:
1 butternut squash – peeled, seeded, and cut into 1-inch cubes
2 tablespoons olive oil
2 cloves garlic, minced
Salt and ground pepper to taste
DIRECTIONS:
Preheat oven to 400 degrees F.
Toss butternut squash with olive oil and garlic in a large bowl. Season with salt and black pepper. Arrange coasted squash on a baking sheet.
Roast in the preheated oven until squash is tender and lightly browned, 25-30 minutes.
Source: http://allrecipes.com/Recipe-Tools/Print/Recipe.aspx?recipeID=229733&origin=detail&servings=4&metric=false
Check out some other hearty recipes loaded with good-for-you nutrients!
Root Vegetable Soup
Prep time: 10 minutes
Cook time: 45 minutes
Yield: Serves 4-6 as a side dish.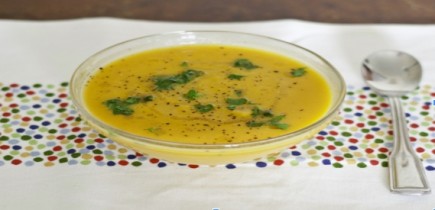 INGREDIENTS
3 purple turnips [about the size of a medium lemon]
6-7 carrots, 3 large parsnips
2 yellow or white onions, roughly chopped
4 cloves of garlic, roughly chopped
6-7 cups or more vegetable, chicken broth or water
Salt and pepper to taste
Olive oil, for sauteing and drizzling
1 bunch fresh parsley, chopped
DIRECTIONS:
In a 3-4 quart pot, heat a little olive oil (1-2 tsp.).
Add onions and garlic and saute until the onions start to brown a bit and soften.
Add the chopped veggies to the pot and cover with vegetable broth.
Let simmer for 30-40 minutes until all the vegetables are tender. (The time will be more or less depending on how big the vegetable chunks are.)
Puree the soup using a blender or food processor. Transfer the soup back to the pot. Taste and adjust salt as necessary and add black pepper, if desired.
To serve, ladle soup into a bowl and drizzle with a little olive oil and garnish top with chopped parsley.
Source: http://www.makeandtakes.com/root-vegetable-soup-a-farewell-to-winter
Roasted Mixed Root Vegetables
Experience the full potential of root vegetables with this simple recipe that uses everyday kitchen staples!
Prep time: 10 minutes
Cook time: 20 minutes
Yield: Serves 4 as a side dish.
INGREDIENTS:
1 1/2 pounds assorted root vegetables, such as parsnips, carrots, sweet potatoes, acorn squash, and beets
2 tablespoons olive oil
Salt to taste
Freshly ground black pepper
DIRECTIONS:
Preheat oven to 450°F.
Peel and cut vegetables into 1/2 inch cubes.
Toss the vegetables in olive oil and season with salt and pepper.
Place on a baking sheet (you may want to line the pan with foil or spray with a cooking spray).
Roast in the oven for 15 to 20 minutes. Vegetables are cooked when they are easily pierced by a fork. If you cut your veggies a larger than 1/2-inch dice, they may take a bit longer.
Root Vegetable Risotto Recipe
Prep time: 20 minutes
Cook time: about 60 minutes
Yield: Serves 6 as a side dish
INGREDIENTS:
1 beet
1 carrot
1 small turnip
¼ c olive oil
½ c leek
1 ½ c Arborio rice or other short-grain rice
5 c low sodium vegetable broth
1 Tbsp ground sage
¾ cup Parmesan Cheese
DIRECTIONS:
Preheat your oven to 425° F. Toss the veggies in a little olive oil and spread out on a sheet pan in a single layer. Bake 15 to 20 minutes or until the vegetables are golden and tender. While the veggies are roasting, prepare the risotto.
In a heavy pot, heat the olive oil and cook the leeks, mushrooms and sage until the leeks are tender, about 4 minutes. From this point on the pan will need constant watching (which is definitely part of the fun!).
Over medium high heat add the rice and stir constantly for 2 minutes. Add the white wine and stir until absorbed into the grains. Pour in 1 cup of the broth and stir until the liquid is absorbed. Add an additional cup of the stock and stir, once again, until fully absorbed.
Proceed in this fashion with all of the remaining broth except 1/2 cup, until the rice is tender but still a little chewy. Stir in the roasted root veggies.
As the final step, add 1/2 cup of the broth. This should make the grains a little bit juicy. Immediately stir in the parmesan. The cheese will melt into the stock which hasn't been absorbed and form a creamy sauce around the grains.
Season with salt and pepper. Garnish with additional roasted veggies, grated parmesan and fresh sage. Serve immediately.
Source: http://caloriecount.about.com/root-vegetable-risotto-recipe-r321856