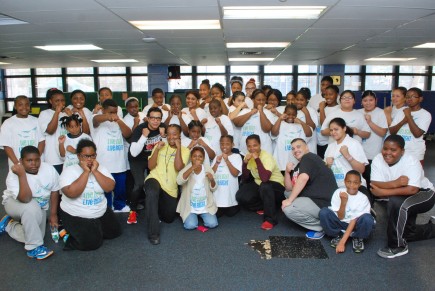 On Saturday, October 25, 2014, youth from Live Light, Live Right visited the Brownsville Recreation Center to participate in the 'KO Program,' a local boxing initiative aimed at combating the obesity epidemic. The obesity epidemic is a crisis in poor communities like Brownsville, Brooklyn, where two-thirds of children ages 5 to 11 are overweight.
Brooklyn based charity, Knockout Obesity, developed the 'KO Program' to help community centers with after school programs, like the Brownsville Recreation Center, to keep their kids moving. Charity founder and Brooklyn restaurateur, Dimitrios Verteouris, spearheaded the class of 32 youth alongside professional boxer, Gary Stark, Jr. For 50 minutes, the participants were run through a rigorous combination of calisthenics and boxing drills, followed by a 10 minute cool down period and nutrition lesson. The children smiled and laughed, which showed how much fun they had during the program.
During the nutrition lesson, Verteouris explained to the youth the perilous effects of excess sugar on the body, and counted sugar packets to emphasize just how much sugar was in popular beverages. Mountain Dew, a crowd favorite, left many of the kids stunned when they learned it contained 19 ½ packets of sugar.
A former cast member on Food Network's reality show, Fat Chef, Verteouris lost 82 pounds in three months using boxing and his own good eats at Nature's Grill. With two open heart surgeries at ages 2 and 11, and a temporary pacemaker at age 15, doctors warned Verteouris he would not live past the age of 35 if he did not shed the weight. He founded Knockout Obesity, to award others the second chance he had been given.
Currently, Knockout Obesity is hosting its first eight-week pilot program at Bushwick-Hylan Cornerstone located in the Bushwick-Hylan NYCHA Houses. Knockout Obesity provides a course blueprint and professional boxer to teach classes twice a week, for eight weeks. Boxing equipment is donated to participating community centers, and existing staff members are trained to sustain the program year round. During the demonstration at Brownsville Recreation Center, two Live Light Live Right staff trainers participated in the workout while encouraging the kids to keep momentum.
"The Knockout Obesity program's demo was a huge success, said Dr. Dhuper, Founder and Executive Director, Live Light Live Right. We are looking forward to building an ongoing partnership with KO that brings new energy and talent to our exercise program at the Brownsville Recreation Center."
Live Light Live Right is a Brookdale Hospital and community-based partnership, non-profit 501 (c) (3), serving overweight and obese children ages 2-19. Nearly half of the children in the program are those who live below the poverty line; and suffer from a BMI >95th percentile or are at high risk of developing diabetes or other serious chronic diseases. By providing free or highly subsidized services, Live Light has already helped over 2,500 children improve their diet, exercise habits, and their health.
Saturday's demonstration was move towards a partnership between Knockout Obesity and Live Light Live Right, as both organizations focus on youth living in low-income neighborhoods that are hit hardest by the obesity epidemic.