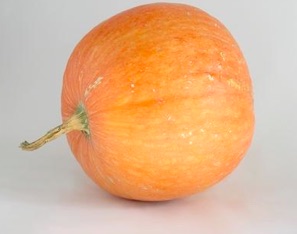 It's finally pumpkin season, and the reasons to celebrate are many. Pumpkin plays a starring role at Thanksgiving , but you should consider making it a more regular part of your diet. The bright orange flesh of a pumpkin is loaded with fiber and key vitamins and minerals. It's also easy to use pumpkin in a variety of recipes from sweet to savory.
Nutrition Facts

Did you know 1 cup of cooked pumpkin only contains 30 calories, less than 1/2 gram of fat, 1 mg sodium, and 8 grams of carbs? Take a look at what other nutrients pumpkin provides.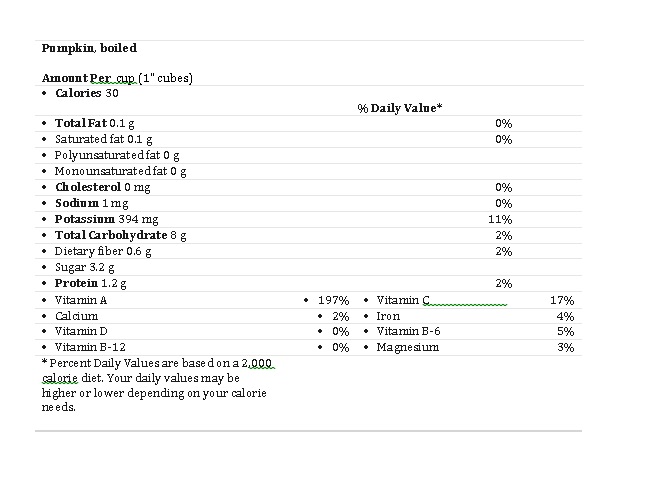 Pumpkin Packs Powerful Healthy Perks
Some of the powerful healthy perks pumpkin's provide include keeping heart health, vision and waistlines in check, as long as you take it easy on the pie!
Some of the health benefits pumpkin provides include:
Rich in antioxidants and is a great anti -inflammatory food! This means it can help with stress relief, joint health, organ health, and soft tissue injuries!
Loaded with Vitamin A, which can help protect your eyes from cataracts and degeneration.
Has high levels of Vitamin C, which helps the immune system and encourages collagen production for the skin to maintain its beautiful glow and elasticity.
Helps to keep your body running smoothly as it is a great source of fiber.
Holds enough carotids to give them their lovely orange color and help prevent premature aging and cardiovascular disease.
Pumpkin seeds are high in protein and plant based fatty acids, which help regulate cholesterol levels, protect against arthritis, promote healthy skin, and improve brain function.
The pulp and the seeds are rich in magnesium required for bone and tooth health.
Rich source of potassium and zinc, which can help prevent the onset of cardiovascular disease and hypertension (high blood pressure). Zinc is also great for your immune system and skin.
Ways To Incorporate Pumpkin Into Your Diet
Smaller is Better
Choose "sugar pie" pumpkins or other flavorful varieties. Small and sweet, with dark orange-colored flesh, they're perfect for pies, soups, muffins and breads.
A medium-sized (4-pound) sugar pumpkin should yield around 1½ cups of mashed pumpkin. This puree can be used in all your recipes calling for canned pumpkin.
Field pumpkins, which are bred for perfect jack-o'-lanterns, tend to be too large and stringy for baking.
Ingredients:
1 medium pumpkin
Directions:
Baking Method
Cut the pumpkin in half and discard the stem section and stringy pulp. Save the seeds to dry and roast.
In a shallow baking dish, place the two halves face down and cover with foil.
Bake in a preheated 375 degrees F oven for about 1½ hours for a medium-sized sugar pumpkin, or until tender.
Once the baked pumpkin has cooled, scoop out the flesh and puree or mash it.
For silky smooth custards or soups, press the pumpkin puree through a sieve. 
Boiling Method
Cut the pumpkin in half, discarding the stringy insides.
Peel the pumpkin and cut it into chunks.
Place in a saucepan and cover with water.
Bring to a boil and cook until the pumpkin chunks are tender.
Let the chunks cool, and then puree the flesh in a food processor or mash it with a potato masher or food mill.
Source: http://allrecipes.com/howto/baking-with-fresh-pumpkin
Pumpkin Apple Walnut Harvest Rice
Serves: 6 (1 cup per serving)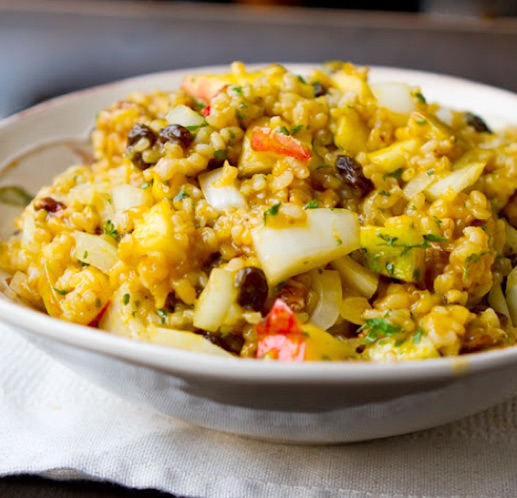 Ingredients:
1 3/4 cups cooked brown rice
1 cup canned pumpkin
1 1/2 Tbsp apple cider vinegar
1 small honey crisp apple, diced
1 small sweet onion, chopped
1 Tbsp parsley flakes
2 tbsp raisins (golden or purple)
1/2 cup walnuts, unsalted
1-3 Tbsp maple syrup (depending on how sweet you want it)
1/4 tsp cinnamon
1/4 tsp fine pepper
2 Tbsp olive oil
1/2 tsp salt (to taste)
optional: 1 cup warmed chickpeas over top
Directions:
Prepare brown rice – set aside in large mixing bowl.
In a small bowl, combine the pumpkin, maple syrup, cider vinegar, spices. Warm in microwave. Mix well. Add this mixture to the warm brown rice. Fold until well distributed.
Dice the apples and onions.
Fold into the rice mixture: raisins, apples, onions, walnuts, olive oil, parsley flakes and salt to taste.
Top with optional warmed chickpeas.
Serve warm or keep in warm oven until ready to serve. But do not over-heat. You want the apples and onions to still have a crispness to them when you serve.
Source: Adapted from http://kblog.lunchboxbunch.com/2011/09/pumpkin-apple-harvest-rice.html
Toasted Pumpkin Seeds
Prep Time: 5 min
Cook Time: 45 min
Makes: 2 cups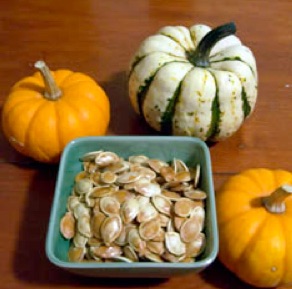 Ingredients:
2 c raw pumpkin seeds
2 tbsp vegetable oil
1 tbsp salt or any other seasoning
Directions:
Preheat oven to 325 degrees F
Spread the pumpkin seeds on a medium baking sheet. Drizzle with oil. Sprinkle with salt.
Bake 45 minutes in the preheated oven, stirring occasionally, until lightly toasted
Source: http://allrecipes.com/recipe/toasted-pumpkin-seeds/
Savory Pumpkin Hummus
Prep Time: 15 Minutes
Ready to serve: 2 hrs 15 minutes
Serves: 8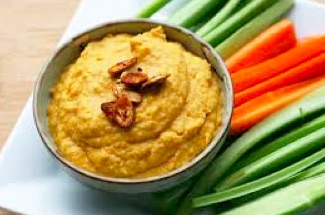 Ingredients:
1 tablespoon lemon juice
1 tablespoon tahini
1-1/2 cloves garlic
1/4 teaspoon salt
1 (15 ounce) can garbanzo beans, drained
1 teaspoon extra-virgin olive oil
1/2 (15 ounce) can pumpkin puree
1/2 teaspoon ground cumin
1/4 teaspoon cayenne pepper
2 tablespoons toasted pumpkin seed kernels, or more to taste
1/2 pinch paprika
Directions:
Pulse lemon juice, tahini, garlic, and salt together in a food processor or blender until smooth.
Add garbanzo beans and olive oil and pulse until smooth.
Add pumpkin, cumin, and cayenne pepper; process until well blended.
Transfer hummus to a container with a lid and refrigerate at least 2 hours.
Fold pumpkin seeds into hummus; garnish with paprika.
Serve with cut up celery or carrot sticks.
Source: http://allrecipes.com/recipe/savory-pumpkin-hummus/?scale=8&ismetric=0
Pumpkin Pie Yogurt
Prep Time: 10 minutes
Serves: 1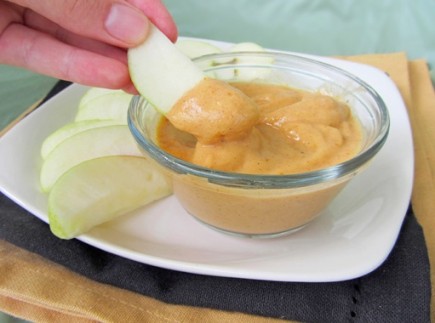 Ingredients:
1/2 cup non-fat vanilla yogurt
1/4 cup canned pumpkin puree
1/4 teaspoon cinnamon
1/4 teaspoon pumpkin pie spice
1 small apple, sliced
Directions:
Mix all ingredients in a bowl, except the apple.
Taste and adjust any amounts to your liking.
Dip apple slices into yogurt mix
Source: http://www.onceuponacuttingboard.com/2011/10/pumpkin-pie-yogurt.html
Pumpkin Spice Breakfast Quinoa
Prep Time: 25-30 minutes
Serves:2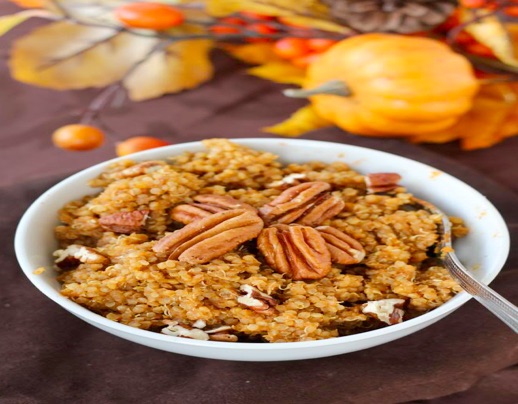 Ingredients:
1/2 cup 2 % milk or almond milk
1/2 cup water
1/2 cup uncooked quinoa, rinsed and drained
1/4 cup + 2 tablespoons pumpkin puree
2 tablespoons pure maple syrup
1/2 teaspoon vanilla extract
1 teaspoon pumpkin pie spice
Pinch of salt
2-4 tablespoons chopped pecans
Directions:
Bring milk and water to a boil in a small to medium sized saucepan.
Add quinoa, cover, reduce heat to simmer, and let cook 15 minutes.  Remove from heat and let stand 5 minutes.
Uncover and fluff with a fork, then stir in the pumpkin, maple syrup, vanilla, pumpkin pie spice, and salt.
Taste and adjust any amounts to your liking (i.e. add more sweetness or spices).
Divide into two bowls (add milk if desired) and top with desired amount of pecans.
Source: http://www.onceuponacuttingboard.com/2013/10/pumpkin-spice-breakfast-quinoa.html
Cinnamon Baked Pumpkin
Prep Time: 25 min
Cook Time: 40 min
Total Time: 1 h 5 min
Serves: 10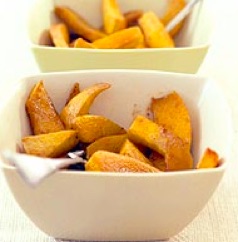 Ingredients:
1 teaspoon cinnamon, ground
1/4 cup(s) sugar, brown (packed)
1/2 teaspoon salt
3 pounds pumpkin, cut into chunks
2 tablespoon oil
Directions:
Preheat oven to 325°F.
In a small bowl, stir together cinnamon, brown sugar, and salt; set aside.
In a 3-quart rectangular baking dish, toss pumpkin with oil.
Sprinkle brown sugar mixture evenly over pumpkin.
Bake, covered, for 40 minutes. Uncover and stir pumpkin.
Bake, uncovered, about 15 minutes more or until pumpkin is tender.
Source: http://www.everydayhealth.com/health-recipe/cinnamon-baked-pumpkin.aspx
Skinny Pumpkin Pie Smoothie
Serves: 1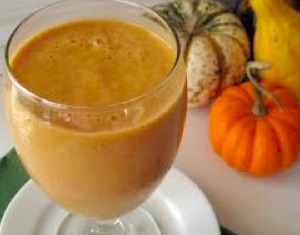 Ingredients:
¼ c pumpkin purée (NOT pumpkin pie filling)
½ c + 2 tbsp nonfat or 1 % milk
1 tsp Truvia
¼ tsp ground cinnamon
1/16 tsp ground nutmeg
1/16 tsp ground ginger
1 ½ c ice cubes
Directions:
Add everything except the ice to a blender, and pulse until combined.
Add the ice, and blend until smooth. Serve immediately.
Source: http://amyshealthybaking.com/blog/2014/09/05/skinny-pumpkin-pie-smoothie/#.VErsbYfP5So
Low-Fat Pumpkin Pie
Prep Time: 10 min
Bake Time: 40 min
Serves: 8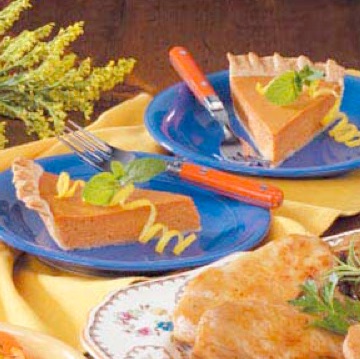 Ingredients:
1 can (15 ounces) solid-pack pumpkin
1 can (14 ounces) fat-free sweetened condensed milk
1/2 cup egg substitute
1/2 teaspoon salt
1/2 teaspoon each ground ginger, cinnamon and nutmeg
1 unbaked pastry shell (9 inches; preferably whole wheat pastry shell)
Directions:
In a large bowl, beat the pumpkin, condensed milk, egg substitute and seasonings just until smooth. Pour into pastry shell.
Bake at 425° for 15 minutes. Reduce heat to 350°; bake 25-30 minutes longer or until a knife inserted near the center comes out clean.
Cool completely on a wire rack. Store in the refrigerator.
Source: http://www.tasteofhome.com/recipes/low-fat-pumpkin-pie/print
Tasty Chicken And Pumpkin Stew
Prep Time: 30 min
Serves: 6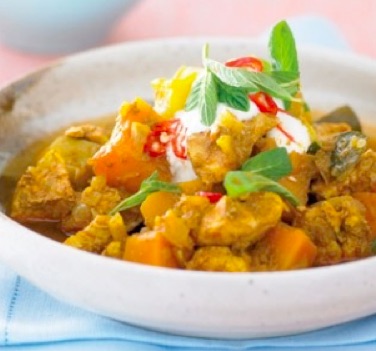 Ingredients:
spray olive oil
1 onion, chopped
1 clove garlic, chopped
1/2 teaspoon chilli flakes (or more or less to taste)
2 teaspoons smoked paprika
1 teaspoon ground cumin
1 teaspoon ground coriander
1 teaspoon cinnamon
1 ¼ lb boneless, skinless chicken thighs, cut into bite-sized pieces
1 granny smith apple, cut into cubes
2 cups, peeled and cubed pumpkin
1 1/2 cups salt-reduced chicken or vegetable stock
juice of 1/2 lemon or lime
Directions:
Heat a spray of oil in a large non-stick frying pan over medium heat and cook onions and garlic until onion is soft but not browned. Add the spices, stir to combine and cook for another couple of minutes.
Add the chicken, apple, pumpkin and stock and bring to the boil. Turn the heat down and simmer, covered, for 15-20 minutes. Remove lid and simmer for 10 minutes more or until sauce has reduced and thickened.
Squeeze in lemon or lime juice. Serve with couscous or brown rice.
Source: http://www.healthyfood.co.nz/recipes/2008/july/tasty-chicken-and-pumpkin-stew
Pumpkin Banana Bread Pudding
Ingredients:
12 Slices Whole Wheat Bread Diced
1 Can Pumpkin Puree
2 Ripe Bananas Mashed
½ Cup Fat Free Milk
½ Cup Sour Cream
2 Large Eggs
1TSP Butter
1 Muffin Pan
Directions:
Preheat oven to 350 degree.
In a large bowl combine all ingredients except butter.
Grease muffin pan with butter.
Place combined ingredients in pan and bake for 35 min or until middle of pudding is cooked. Use toothpick to check for readiness.