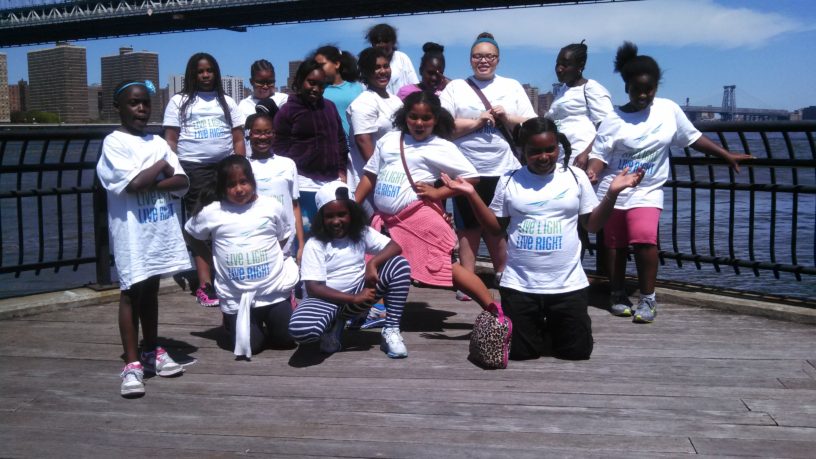 Our Live Light Summer camp started its 6th season this summer!. The 40 campers were excited as they all ran into the gymnasium at Teacher's Prep High School, our venue for many of the past six years.  Some of the campers knew each other from previous Live Light summer camps.  Some knew each other from their Live Light Live Right exercise site throughout the year.  Some knew each other from the neighborhood.  The one thing that was certain is that they felt emotionally and physically safe with each other.  They already had their Live Light Live Right T-Shirt, hat and backpack and were ready to start the summer with fun, laughs and inspiration.
We are continuously educating the campers, as we do throughout the year, as to good nutrition choices, fitness goals and self esteem building.  As one of our parents writes, "Thank you for this program, my son Steven is enjoying the camp and is also making good choices starting from the first day of camp. On the first day after camp, he went to the supermarket, usually he would have picked a bag of chips, I was surprised he chose yogurt.  My heart was jumping with joy. Thank you."
Kim Richardson, our camp director and Ebony Harris, our health director, are not only seasoned professionals taking care of our children for the summer, but they are our dedicated exercise trainers throughout the year.  When it comes to the Live Light Live Right participants, they truly care and protect them as if they were their own.
We went on fantastic field trips to the Metropolitan Museum of Natural History, Bronx Zoo, Gleason's Gym, Toy Museum, Coney Island Beach, Brooklyn Cyclones game, Frames Bowling and Luna Park Amusement Park.  We carefully select trips that will encourage, motivate, challenge their minds and of course be fun!!
We are already planning for our seventh season next year!  So, please sign up early!!