Summer is filled with fun events. Everything from graduation parties, to Fourth of July picnics, to good old-fashioned backyard barbeques – it's likely that you already have several events you'll be celebrating the summer season. With a little preplanning, these social gatherings can offer not only great company and fun, but a menu that is nutritious and delicious.
To help you stay on track with healthy eating while still enjoying the celebration, take a look at some of the best foods choices, and those you should be wary of.
Keep Portions in Perspective
Portion size counts, even if you are selecting healthy choices. While the goal is to fill your plate with the best food choices available at any barbeque, you don't want to sabotage your health efforts by eating too much.
Aim to fill ½ of a 7-inch plate with salad and non-starchy vegetables (like carrots, broccoli, spinach, zucchini, etc), ¼ of it with a lean protein option (like chicken, fish, lean beef, etc) , and the last ¼ with a starchy food (like a whole grain, beans, or starchy vegetables as corn, peas, etc). Then, add a side of fruit and a glass of low-fat milk, if desired.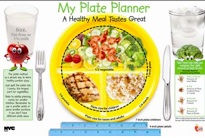 This simple guide will help you keep portions in perspective. What's more – you can use this mindful approach anywhere, and it's perfect for serve-yourself situations like picnics and barbecues.
Using this plate method as your guide still allows you to enjoy many of your favorite summer foods. Take a look at some additional helpful tips to avoid overeating:
Check out all of the food before you start to fill your plate. Weigh your options. What do you absolutely have to try and what are you willing to pass on? If you want to try it all, aim for smaller portions.
Follow the 20-Minute Rule. It's a fact…it takes your brain a full 20 minutes to realize that you are full. Before going back for second portions, take a break. Have a plan for something to do—taking a walk, helping the host clean up, or just enjoy the quality time you have with your friends.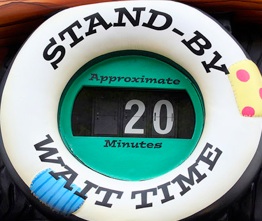 The Best and Unhealthiest Choices
Some picnic fare and barbecues can be high in calories, unhealthy fats, sodium, and added sugars. Below is a list of which foods to limit, along with some good substitutions for them. Look for these better choices at your next summer party.
From the Snack Table
It is so easy to stake out a spot next to the snack table and graze on chips, crackers, and sour-cream based dips, like French onion dip. Eating out of a bottomless bowl or plate can certainly pack on the calories. So, make sure you grab a small plate or napkin, take a portion of the snack you want, and then put some distance between you and the snack table. You'll want to save room for the main course anyway!
Rather than loading up on the salty or high fat snacks, better choices to look for that are packed with nutrients and more fiber include:
Fresh veggies with a few tablespoons of hummus, guacamole, or light ranch dressing
Salsa with a handful of baked tortilla chips or pita chips
Cut up fresh fruit with a 3-4 small cheese cubes
¼ cup trail mix or mixed nuts
From the Grill
Burgers are a popular choice and are often made with high-fat ground beef. Other typical entrees–processed and breaded meats such as hot dogs and sausage along with ribs and fried chicken are loaded with unhealthy saturated fats, sodium and calories. Instead of opting for one of these, keep an eye out for leaner options such as:
Grilled chicken or turkey (without the skin)
Burgers made with lean ground turkey or lean ground beef (meat should be at least 90% lean)
Kabobs made with peppers, onions, mushrooms, or other vegetables plus chicken, shrimp, or scallops
Grilled salmon or other grilled fish filets
Veggie or black bean burgers
Check out the recipes below……
Lemony Grilled Chicken Breasts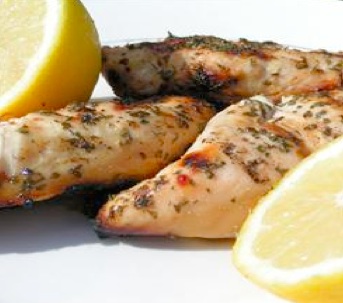 Time: 15 Minutes
Cook Time: 30 Minutes
Serves 4
Ingredients:
4 skinless, boneless chicken breast halves
1/2 cup lemon juice
1/2 teaspoon onion powder
2 teaspoons dried parsley
Ground black pepper to taste
Seasoning salt to taste
Directions:
Preheat an outdoor grill for medium-high heat, and lightly oil grate.
Dip chicken in lemon juice, and sprinkle with the onion powder, ground black pepper, seasoning salt and parsley. Discard any remaining lemon juice.
Cook on the prepared grill 10 to 15 minutes per side, or until no longer pink and juices run clear.
Source: http://allrecipes.com/recipe/jennys-grilled-chicken-breasts/
BBQ Turkey Burgers
Time: 10 Minutes
Cook Time: 15 Minutes
Serves 4
Ingredients:
1 pound ground dark-meat turkey
1 garlic clove, minced
1/2 teaspoon paprika
1/4 teaspoon ground cumin
Pinch of kosher salt
1/4 teaspoon freshly ground black pepper
4 slices sweet onion, grilled
1/4 cup barbecue sauce
4 (1.6-oz) whole wheat sesame seed buns, toasted
Directions:
In medium bowl, gently mix together turkey, garlic, paprika, and cumin.
Form turkey into 4 (4-inch) patties; season with salt and pepper.
Heat grill to medium-high; cook, turning once, until burgers are just cooked through (about 7 minutes per side).
Serve with desired toppings and buns.

Source: http://www.health.com/health/recipe/0,,50400000121804,00.html