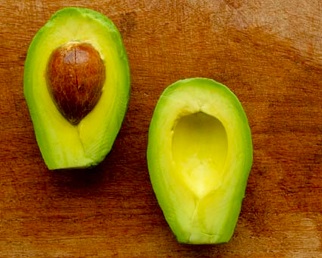 Avocado season is quickly approaching, and there are more ways to enjoy this superfood than just making guacamole. Flavorful, creamy, and full of healthy fats, avocados are perfect for desserts, dips, salsas, salads, sandwiches, and more!
If you've been avoiding avocados in your heart-healthy diet because of their high fat content, know that those fats are primarily mono- and polyunsaturated — good fats needed to process the fat soluble vitamins A, E, D, and K. Avocados also have plenty of antioxidants, primarily carotenoids found in the deep green part of the flesh, closest to the peel.
Avocados have phytonutrient benefits: cholesterol-lowering plant sterols; glutathione, which works as an antioxidant potentially for cancer protection; and lutein, which promotes healthy vision.
The often over-looked avocado is a delicious, superfood that's simply too health-boosting to skip. One-fifth of an avocado (about 1 ounce) contains:
50 calories
4.2 g of fat, 0.6 g saturated fat and no trans fat
2 grams dietary fiber
Nearly 20 nutrients including potassium, vitamin K, folate, B vitamins and vitamin C
No cholesterol
How to Get More Avocado into Your Diet
Avocados are easily integrated into any meal. Check out the recipes below!
Tuna Melt with Avocado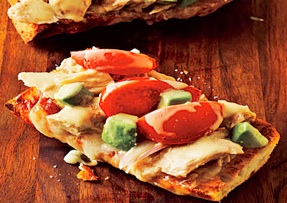 Prep Time: 14 minutes
Serves: 4
Ingredients
2 1/2 tablespoons olive oil
2 tablespoons thinly sliced shallots
1 tablespoon Dijon mustard
1/4 teaspoon black pepper
1/8 teaspoon salt
1 (6-ounce) can solid white tuna in water, drained and flaked
1 1/2 tablespoons fresh lemon juice
1 avocado
1 cup cherry tomatoes, quartered
1/3 cup shredded low-fat Swiss cheese
2 (6-ounce) pieces French bread, halved lengthwise and toasted
Directions:
Preheat broiler to high.
Combine first 6 ingredients in a medium bowl, stirring well to coat.
Place juice in a small bowl. Peel, seed, and chop avocado.
Add avocado to juice; toss.
Add avocado mixture and tomatoes to tuna mixture; toss well to combine.
Sprinkle cheese evenly over cut sides of bread, and broil for 3 minutes or until cheese is bubbly.
Place 1 bread slice, cheese side up, on each of 4 plates, and divide tuna mixture evenly among bread slices.
Source: http://www.myrecipes.com/recipe/tuna-melts-with-avocado-50400000113033/
Best-Ever Guacamole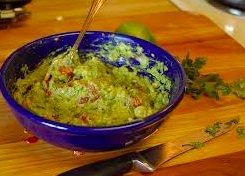 Prep Time: 5 Minutes
Ready To Serve: 1 Hour 5 minutes
Servings: 3 cups
Ingredients
4 ripe avocados
1/4 cup thinly sliced grape or cherry tomatoes
1 tablespoon finely chopped red onion
1 jalapeño or serrano pepper, seeds removed and finely chopped
1 ½ tsp Coarsely chopped cilantro (or to taste)
2 cloves garlic, finely chopped
Juice of one half lime
1 1/2 teaspoon each cumin and chili powder (or to taste)
Salt and pepper, to taste
Directions
Combine all the ingredients except the avocadoes, salt and pepper to give the flavors a chance to meld for a half hour or so.
Mash the avocadoes with a fork so there are whole pieces of avocado and then gently fold in the other ingredients.
Serve immediately.
Source: http://www.wholefoodsmarket.com/blog/best-ever-guacamole-again?__federated=1