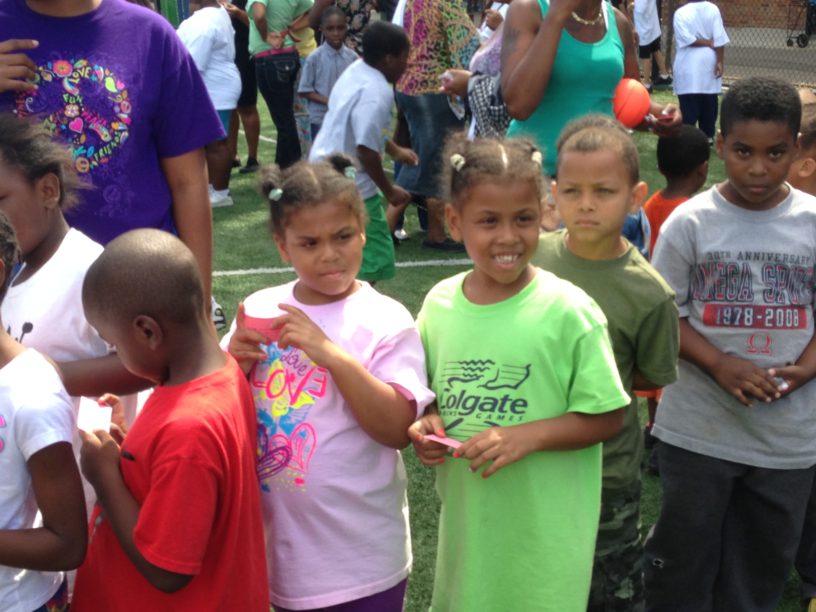 For many families living in New York City's poorest neighborhoods, the cost of buying school supplies for the first day of school is staggering. The list that schools send home — pencils, binders, backpacks and glue — can quickly add up to a price tag well above what a family can afford. For obese kids who face weight bias in school, having the right supplies can make a huge difference in their academic success.
So on Sept. 7, we participated in the annual Back to School Book Bag Giveaway on Linden Blvd. in Brooklyn. The Brownsville Recreational Center sponsored the event. More than 100 children and their families attended. They received free book bags packed with pens, pencils, notebooks, crayons and all the necessities that parents would need to get their children started for the school year.
For the Live Light program, the giveaway had special meaning. Overweight and obese children have higher rates of absenteeism and poor school performance largely due to weight bias. Providing them with the supplies they need is one way to show support for their learning and help lessen their burden.
Ebony Harris, a Live Light trainer, organized fun physical activities for the children. There were light refreshments for the families, fun activities and free story books giveaways for the children. It was a great event and fun way to kick off the new school year.