Yes, it's true, summer has come to an end. While it is sad to say goodbye to the barbecues, picnics and the summer season, it is a time to celebrate the beginning of a wonderful fruit and vegetable season. Fall is full of delicious foods you can work into your diet in a variety of ways that can perk up any chilly night.
Why Eat Seasonal Produce?
If you are interested in protecting the environment, buying local seasonal produce not only can potentially reduce our carbon footprint but it also helps local economies. Since it is grown locally, the produce is fresher.. which results in more nutritious produce.
From apples to sweet potatoes, autumn's bumper crop of fruits and vegetables offer a range of intense flavors and substantial textures that you can use to make a piping-hot bowl of soup….a satisfying meal for a cozy fall dinner
That warm-you-right-up goodness of a bowl of soup is just the thing to cap a day of being out in the chilled air, whether you've been tromping through the snowy streets or curled up with a book.
Take a look at some of the seasonal fall foods and delicious recipes featuring in-season tasty and satisfying soups.
Apples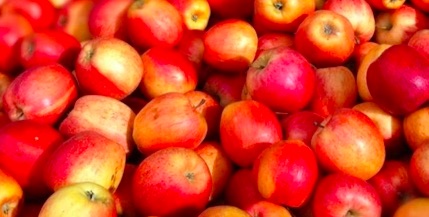 Health benefits: High in vitamin C and dietary fiber, apples are an easy way to fill up on relatively few calories. Take one as a portable snack — they are nutritious and delicious!
Nutrition: (1 medium apple) 72 calories, 0.2g fat, 19.1g carbohydrates, 3.3g fiber, 0.4g protein
Curried Apple & Carrot Soup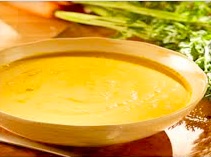 Makes: 8 servings, about 3/4 cup each
Active Time: 40 minutes
Total Time: 1 hour
Ingredients
1 tablespoon extra-virgin olive oil
1 large onion, chopped (2 cups)
1 stalk celery, finely chopped
1 tablespoon curry powder
5 large carrots, peeled and thinly sliced (3 cups)
2 large McIntosh or other apples, peeled and coarsely chopped (3 cups), peeled and coarsely chopped (3 cups)
1 bay leaf
4 1/2 cups reduced-sodium chicken broth
1/4 teaspoon salt
Freshly ground pepper, to taste
2 tablespoons low-fat plain yogurt, for garnish (optional)
1 tablespoon chopped fresh parsley, dill or basil for garnish (optional)
Preparation
Heat oil in a large saucepan or medium soup pot over medium heat. Stir in onion and celery; cook until the onion is softened and translucent, 8 to 12 minutes; do not brown.
Stir in curry powder, then add carrots, apples and bay leaf. Stir well over medium heat for 2 minutes, then add broth and salt. Bring the mixture to a low boil, then reduce the heat to low. Cover tightly and simmer until the carrots and apples are tender, 20 to 25 minutes.
Remove the bay leaf. Using a large slotted spoon, transfer the soup solids to a food processor, adding about 1/2 cup of the broth; process to a smooth puree. Pour the puree back into the soup. Reheat and season with pepper. Serve piping hot, garnishing each serving, if you like, with a dab of yogurt and a sprinkle of fresh herbs.
TIPS & NOTES
Make Ahead Tip: Cover and refrigerate for up to 2 days or freeze for up to 3 months.
Broccoli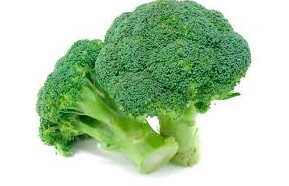 Health benefits: Broccoli is a power vegetable! Each little green tree is high in vitamins A, B6, and C. along with potassium, manganese, and dietary fiber
Nutrition: (1 cup, raw) 30 calories, 0.3g fat, 5.8g carbohydrates, 2.3g fiber, 2.5g protein
Broccoli and Cheese Soup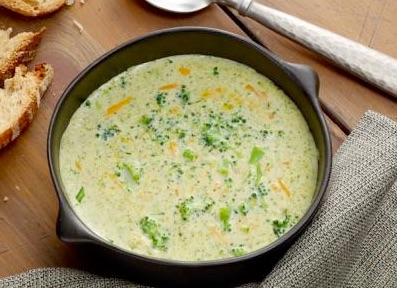 Makes: 12 Servings
Minutes to Prepare: 5
Minutes to Cook: 30
INGREDIENTS
cooking spray
1 cup chopped onion
2 garlic cloves, minced
3 cups fat free, less sodium chicken broth
1 (16oz.) package broccoli florets
21/2 cups skim milk
1/3 cup all purpose flour
1/4 tsp. black pepper
8 oz. fat free shredded cheddar cheese
PREPARATION
Heat a large nonstick saucepan coated with cooking spray over medium high heat.
Add onion and garlic; saute 3 minutes or until tender.
Add broth and broccoli.
Bring broccoli mixture to a boil over medium high heat.
Reduce heat to medium; cook 10 minutes.
Combine milk and flour, stirring with a whisk until well blended.
Add milk mixture to the broccoli mixture.
Cook 5 minutes or until slightly thick, stirring constantly. Stir in pepper.
Remove from heat; add cheese, stirring until cheese melts. Place 1/3 of the soup in a blender or food processor, and process until smooth. Return purred soup mixture to pan. Makes 12 1/2 cup servings.
Source: adapted from http://recipes.sparkpeople.com/recipe-detail.asp?recipe=790044
Broccoli Apple Soup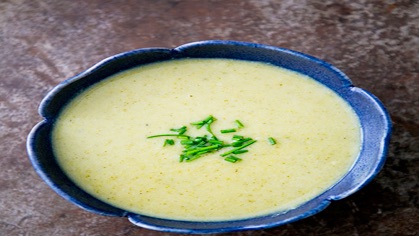 Makes: 4 to 6 servings.
Prep time: 15 minutes
Cook time: 40 minutes
INGREDIENTS
1 large bunch of broccoli (about 3 heads with stems)
3 Tbsp butter
1 cup of thinly sliced or finely chopped yellow or white onion
1 good cooking apple (a non-tart apple such as Jonagold, golden delicious, McIntosh), peeled, cored, chopped
3 cups of chicken stock
1 cup of apple juice or apple cider (not hard cider)
4 sprigs of lemon thyme or thyme
2 strips of lemon peel
1 Tbsp chopped fresh chives for garnish
PREPARATION
Separate the broccoli florets from the stems. Peel the outer tough skin of the stems with a vegetable peeler.
Slice the stems into rounds and chop finely (a mini chopper food processor works well for this step).
Heat a thick-bottomed medium large (4-quart) saucepan on medium heat. Melt the butter in the pan. Add the onion and the apple and lower the heat to low. Cover and cook for 10 minutes, until onions are translucent and apples are softened.
Add the broccoli florets and the chopped broccoli to the apple onion mixture. Add the stock and the cider. Tie up the thyme sprigs with kitchen string and add to the pot. Add strips of lemon peel to the pot as well. Increase the heat, bring to a boil, reduce the heat to maintain a low simmer, covered. Cook for 20 to 25 minutes.
Remove from heat. Remove thyme and lemon peels from the soup and discard. Working in batches, filling up the blender bowl to no more than one third full at a time, purée the soup.
Return soup to the pot, reheat and adjust seasonings to taste. Garnish with chopped fresh chives to serve.

Source: http://www.simplyrecipes.com/recipes/broccoli_apple_soup/

Tomatoes

Health benefits: Tomatoes are a rich source of vitamins A and C and folic acid. Tomatoes contain a wide array of beneficial nutrients and antioxidants, including alpha-lipoic acid, lycopene, choline, folic acid, beta-carotene and lutein.

Nutrition: One medium tomato (approximately 123 grams) provides 22 calories, 0 grams of fat, 5 grams of carbohydrate (including 1 gram of fiber and 3 grams of sugar) and 1 gram of protein.

Tomato Soup

Did you know tomatoes are more nutritious cooked than raw, because heat increases the amount of lycopene you absorb?

Makes: 4 servings (about 1 1/2 cups each))

INGREDIENTS
2 tablespoons olive oil
1 large or 2 medium onions, halved and thinly sliced
1 carrot, chopped
Salt and freshly ground pepper
2 tablespoons tomato paste
1 sprig fresh thyme, or 1/2 tsp dried
2 pounds tomatoes, cored and chopped, or 1 (28-ounce) can diced tomatoes, including the juice
2-3 cups water or tomato juice
1 teaspoon sugar, optional
1/4 cup chopped fresh basil leaves for garnish, optional
PREPARATION
Put the oil in a large pot over medium heat. When it's hot, add the onion and carrot, sprinkle with salt and pepper, and cook, stirring, until the vegetables begin to soften (3-5 minutes). Add the tomato paste, lower the heat a bit, and continue to cook, stirring to coat the vegetables with the paste, until the paste begins to darken–don't let it burn (1-2 minutes).
Strip the thyme leaves from the stem and add them to the pot along with the tomatoes. Cook, stirring occasionally, until the tomatoes break down (10-15 minutes). Add 2 cups of the water or juice and bring to a boil, then adjust the heat so that the mixture bubbles gently. Let cook until the flavors meld (5 more minutes).
Taste and adjust the seasoning; if the soup tastes flat (but salty enough), stir in the sugar. If it's too thick, add more water, 1/4 cup at a time. If it's too thin, cook until it thickens and reduces slightly (this will also intensify the flavors). Garnish with basil, if using, and serve.
Change It Up!
Hearty Tomato Soup: Add 1/2 cup white rice, bulgur, or couscous with the water in Step 2, along with 1 more cup liquid. Cook until the grain is tender (5-15 minutes) and be prepared to add a little more water if the soup gets too thick.
Spiced Tomato Soup: Instead of the fresh thyme and basil, add 1 TBSP curry or chili powder or 1 tsp smoked paprika (pimentón) along with the tomato paste in Step 1.
Source: http://www.health.com/health/recipe/0,,50400000124164,00.html
Carrots

Health benefits: Not just rabbit food, one cup of carrots provides an astounding 428 percent of one's daily recommended amount of vitamin A. The veggie is also high in vitamins C and B6, as well as potassium, thiamin, and fiber.
Nutrition: (1 cup, chopped) 52 calories, 0.3g fat, 12.3g carbohydrates, 3.6g fiber, 1.2g protein
Cauliflower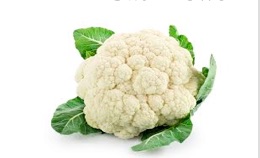 Health benefits: Perhaps considered the ugly stepsister of its more popular veggie sister broccoli, cauliflower is bursting with vitamin B6, potassium, and vitamin C — 77 percent of your recommended allowance per cup! As if that weren't enough, the veggie also happens to be low in calories and high in fiber, so eat up!
Nutrition: (1 cup) 25 calories, 0.1g fat, 5.3g carbohydrates, 2.5g fiber, 2g protein
Sweet Potatoes
Health benefits: Bursting with vitamin A (377 percent of your daily recommended intake per cup!) and high in potassium and fiber, this versatile vegetable can be worked into a variety of dishes, from sides to desserts. One point to note: Its high sugar content translates into a fair number of calories, so consider this ingredient more like a starch than a vegetable.
Nutrition: (1 cup, raw) 114 calories, 0.1g fat, 26.8g carbohydrates, 4g fiber, 2.1g protein
Sweet Potato, Carrots and Cauliflower Medley Soup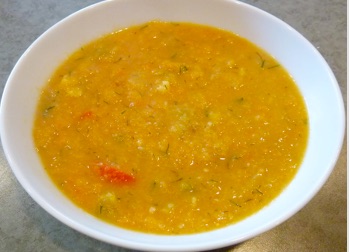 INGREDIENTS
1 large onion chopped
1 stalk of celery chopped
1/2 red pepper chopped
2 cloves of garlic minced
1 tbsp olive or vegetable oil
1/2 cauliflower chopped
1 large sweet potato chopped
3 large carrots chopped
2 parsnips chopped
7 cups of vegetable or chicken broth
1 cup skim milk or soy milk
2 tbsp fresh dill or 1 tsp dried
1/2 tsp dried thyme
salt and pepper to taste
PREPARATION
Heat oil in large soup pot and saute the onions, celery, sweet pepper and garlic on medium heat for about 5 minutes.
Add the cauliflower, sweet potato, carrots and parsnips to the pot. Saute for a few minutes.
Add the stock, cover and simmer for about 30 minutes until the vegetables are tender.
You need to puree the soup, either the whole pot or half to two thirds. You can puree using a blender, a puree hand wand or a potato masher. When chopping the vegetables before adding them to the pot at the start of the recipe, I decided to finely chop the carrots, cauliflower, sweet potato and parsnips in the blender. It took several sessions as this is a lot of vegetables. I did not chop the celery, onions and sweet pepper using a blender but did it using a knife and cutting board.
Add the milk, dill and thyme and salt and pepper to taste..
Fall Fruits
Fruit is always easy. It is ready to eat, tastes great, and kids love it. But if you're looking for some new ways to incorporate fruit into your menu besides the "grab and bite" technique, try fruit smoothies, fruit cobblers and fruit-topped pancakes and French toast.
Apples. Try them baked with sweet potatoes and raisins. Or sauté them in butter in a skillet until tender, then sprinkle with cinnamon and drizzle with maple syrup.
Figs. Try fresh figs stuffed with goat cheese, cooked into a sauce and served over vanilla ice-cream, or right out of the box.
Grapes. Grapes are a great snack food. They also make a yummy breakfast beverage when blended with vanilla yogurt.
Pears. Try pears on the grill. Cook until tender, then sprinkle with a pinch of sugar and enjoy (quickly!) with vanilla ice cream.
Citrus Fruit
Health benefits: Like their sister summer citrus fruits, winter citrus fruits — mandarin oranges, tangerines, blood oranges, and clementines — are very high in vitamin C, which helps boost immunity to fight off pesky colds and flu. They're high in fiber, to boot.
Nutrition: (1 tangerine, medium) 50 calories, 0.5g fat, 3g fiber, 1g protein
Fall Fruit Soup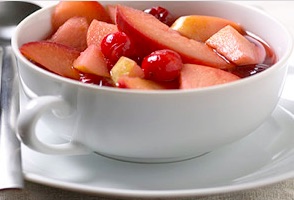 Makes: 6 servings, 1 cup servings.
Prep time: 10 minutes
INGREDIENTS
1 cup cranberries (4 ounces)
1 medium pear, cored and cut into bite-size pieces
1 medium cooking apple (such as Rome, Jonathan, or Fuji), cored and cut into bite-size pieces
3 plums, halved, pitted and cut into thin slices
3 cups cranberry-apple juice
2 tbsp packed brown sugar
1 tablespoon lemon juice
2 3-inch pieces stick cinnamon
 PREPARATION
In a large saucepan combine cranberries, pear, apple, and plums.
Stir in cranberry-apple juice, brown sugar, lemon juice, and cinnamon stick.
Bring to boiling; reduce heat.
Simmer, covered, for 5 to 6 minutes or until fruit is tender and skins on cranberries pop.
Remove cinnamon sticks; discard.
Source: adapted from http://www.recipe.com/fall-fruit-soup/
Source: http://www.fitnessmagazine.com/recipe/soups/curried-butternut-squash-soup/
Best Autumn Dessert Soup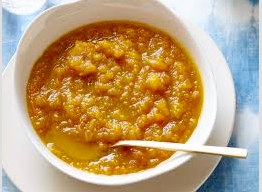 Makes: 6 servings
INGREDIENTS
2 
apples, peeled, cored and cut into eighths
2 
pears, peel, cored, and quartered
1 
cup frozen dark sweet cherries, pitted
1/3 
cup prunes
1/3 
cup dried apricots
1
 tablespoon raisins
1 
tablespoon dried currants
1
3-inch cinnamon stick
4 
cups water
PREPARATION
Combine all ingredients in a pot; bring to a boil. Lower heat and simmer for 20 minutes. Remove from heat and discard cinnamon stick.
Let cool slightly and then scoop out the apples and pears, puree them in a food processor, and return to soup.
Serve warm for dessert.
Source: http://food52.com/recipes/23960-scandinavian-autumn-fruit-soup